If you're ready to go from this to this...
Are you struggling to make your message heard? Do you find it challenging to connect with others effectively? Gina London understands the pain points that you & your team face in your communication journey and is ready to provide the solution.
Does any of this sound familiar?
Are you struggling to make your message heard?
Do you find it challenging to connect with others effectively?
Are you struggling to influence and persuade others to see your point of view?
Gina is dedicated to helping you conquer your communication challenges. Her tailored coaching programs will address these pain points head-on, providing you with the skills and confidence to communicate with impact, build strong relationships, and achieve success in all aspects of your life. 
Say goodbye to communication struggles and unlock your
full potential
today!
An Emmy-winning former CNN correspondent and anchor with premier clients in five continents, she guides the top companies and executives in the world to more positively connect and engage with their employees, their board and themselves.
When Gina hosts, facilitates or speaks, your conference becomes an actionable, motivational and uplifting event. Participants are energized. Additional speakers are spotlighted and you as the organizer feel absolutely great about the day.
From outlining more connecting team management and organizational approaches to modifying limiting behaviors, Gina confidentially encourages executives on the strategies, structure and delivery of becoming a more purposeful communicator.  She will help you develop your authenticity to confidently gain trust, respect and esteem.
From Senior Leadership Teams to Emerging Leaders, Gina and her colleagues will provide proven methodologies combined with digitally recorded stand-and-deliver rounds that will propel anyone toward more confidence and comfort in how they write, speak, story-tell and connect.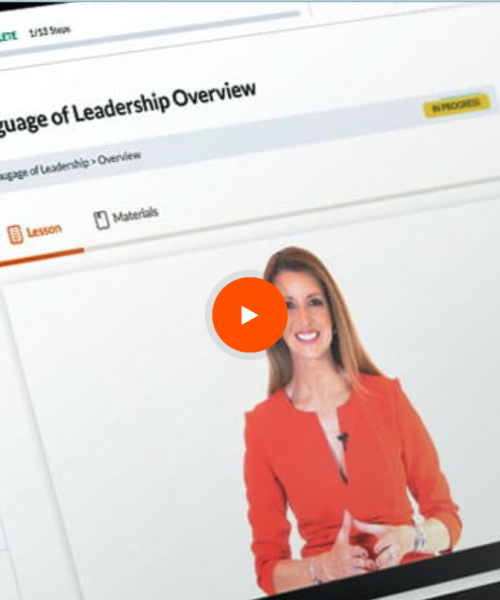 This is the platform that supports any speaking, coaching or training experience with Gina and her team.
Though a unique combination of micro-video lessons and exercises, your awareness and abilities will be further enhanced every month.
No matter where you are today, boosting your communications skills will take you where you want to go tomorrow – faster.
There's a huge difference between understand and doing. The Language of Leadership teaches you how to develop your authenticity in every facet of your life.
FINd your perfect
communication solution
Choose whether you want to book Gina for coaching, training, speaking or access Gina's online learning platform, Language Of Leadership. 
You can start the conversation about your tailored solution with Gina by clicking the button below.
You'll finally have all the skills and tools to Unleash Your True Communication Power.
"I am personally engaging my team in ways I never considered before. I've learned from the best."
"It's not happy-clappy. I learned how to strategically connect and create a positive culture that values people."
"I've never been so inspired about my potential."